15th June 2017
ACUPRESSURE HEALTH CAMP
Treatment without Medicine And No Side Effects.
Treatment by Acupressure [ No Medicine : No Side Effects ]
FREE Natural Treatment, No Medicine, by Acupressure method, Health Camp was held for 8 Days.
From 8th-15th June 2017 in Auditorium of Karnataka College, Bidar.
Time : 9:00 Am to 1:00 Pm & 3:00 Pm to 8:00 Pm

# Organised by ROTARACT YoungSTAR Team in association with ROTARY Club of FORT, Bidar & Karnataka College.
In this event appx. 130+ Patients have taken treatment & got benefited.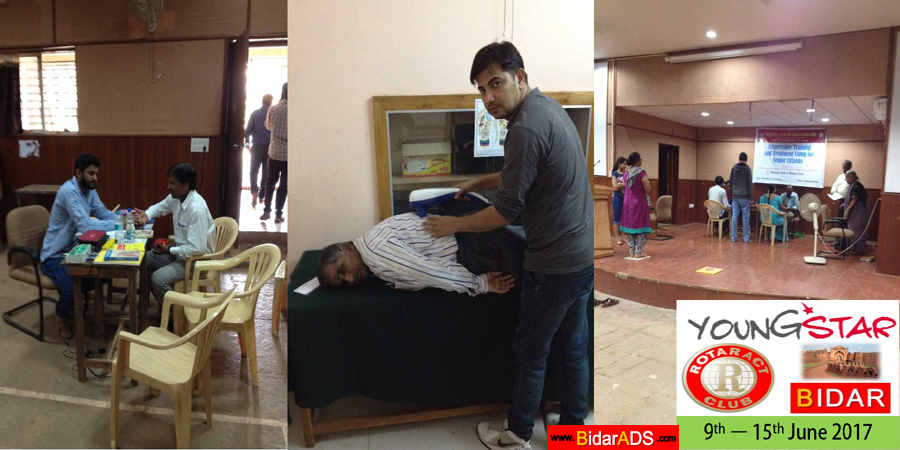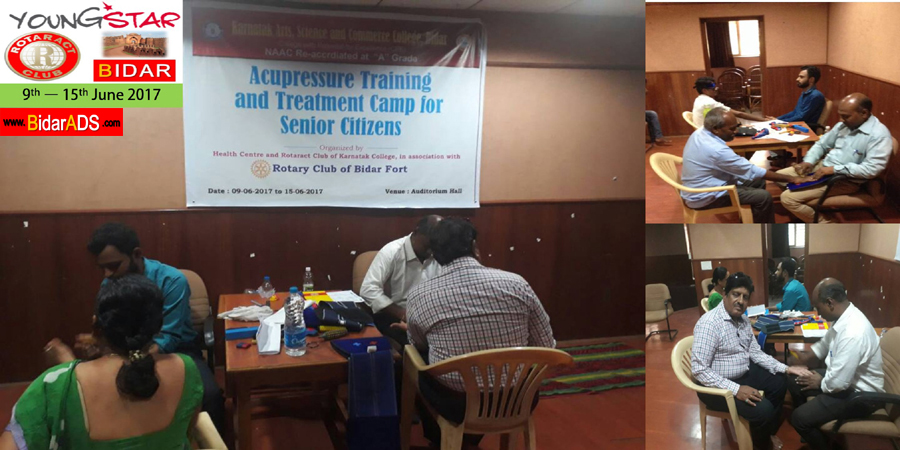 On 15th June Valedictory Event was conducted.
Venue : Auditorium of Karnataka College, Hyd Road, Bidar.
Time : 12:00 to 2:00 Pm

Chief Guests :
1. Rtn.Baswaraj Dhanur (Asst.Governor(E),Dist.3160,Kalyan Zone.
2. Prof.Abhaykumar Patil (KRE Society, Bidar)

Guest of Honor :
1.Dr.Mallikarjun Hangarge (IQAC Co-Ordinator, KASCC,Bidar)

Guest Speaker :
1.Dr.Shasherao Wanjarkhed (Rtn.Director,Sinhagad Institute of Lonavala,Pune Research Co-Ordinator,GNDC,Bidar & CB College Bhalki)
2. Mr.Shersing and Mr. Deepak (Therapist, Dr.Ram manohar Lohiya Arogya Jeevan Samsthan,Rajasthan.)


Presided by :
Dr.B.S. Biradar (Principal KASCC, Bidar)

Welcomed by President of ROTARY CLUB of Bidar FORT
Mr.Prof.M.S. CHELVA

Convener :
Dr.S.B.Mashetty (Health Centre, KASCC,Bidar) & President : ROTARACT YOUNGSTAR Club, Bidar.